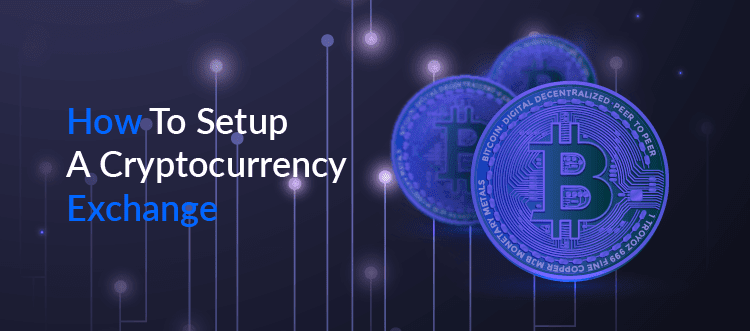 Overview
With the advent of blockchain technology and powerful GPU's, Cryptocurrencies and Crypto Exchange Softwares have been in the limelight since last few years. The all-time high relays of Bitcoin, Ethereum and other cryptocurrencies changed the fortune of many investors across the globe. As per the global report, Bitcoin has almost recorded a profit return of 785% in the last year that's huge! In fact, no other commodity in the market has provided such high dividends and, this has added much hype to the rise of "crypto exchange environment."
Now, the biggest question arises:
How does Cryptocurrency Trading take place?
All thanks to Crypto Exchange Softwares!
Best cryptocurrency Exchange Software provides a platform that helps in trading, buying and selling of cryptocurrencies. MintPal, BitFinex, BitFlyer, uniDax, etc. are some of the popular Crypto Exchange platforms widely used across the globe. These software make it easy for the investors to maintain a database and account for all the transactions. They act as an interface or a medium for the buyers and sellers to directly look after the charts and the transaction history along with the volume of the cryptocurrency available for a trading session.
Nowadays, a large number of investors are keeping an eye on stats and making investments in crypto markets. Consequently, there is a need for more stable Cryptocurrency Exchange Software.
The standard features of Cryptocurrency Exchange Software are:
1) Trading of Digital Assets
Crypto Exchange Software is a one-stop destination for digital assets. It is a multicurrency trading platform that extends support for high frequency and SegWit-enabled trading.
2) Multi-currency Trading Platform
Commonly, most of the software's support major fiat currencies such as Euro, USD, etc. Some of the Crypto Exchange Softwares also support fork trading.
3) Security
Crypto Exchange Softwares have all the latest bank level defenses to prevent security breach and hacks. They come with multi-signature authentication feature, 3-Point architecture and DB encryption. Thus, ensure the safety of user holdings and data safety.
4) User-Friendly Design
These Exchange softwares come with a user-friendly design. The easy to use architecture ensures the easy addition and deletion of cryptocurrencies as per the demands of the user.
5) Encrypted Wallets
These crypto exchange software provide that both cold and hot wallets peer-to-peer tradingfollow the latest encryption techniques. In addition to encrypted wallets, they come with multi-signature authentication security.
6) Trading of Multiple Cryptocurrencies
Crypto Exchange Software allow trading of multiple cryptocurrencies such as Bitcoin, Litecoin, Bitcoin Cash, Bitcoin Gold, Ripple, Ethereum, DashCoin, HCX, AltCoin and ERC20 tokens at the same platform.
7) Check for Compliance
This software enable the user to check for compliance based on geography-specific KYC and AML.
8) Platform Independent
In addition to all the features mentioned above, this software are platform-independent. They work on iOS, Android, Windows, and all the other major systems.
Types of Crypto Exchange Softwares:
Based on Working, Crypto Exchange Softwares are of the following types:
1. Traditional/Conventional Cryptocurrency Exchanges
These type of crypto exchanges work like conventional exchanges, where buyers and sellers trade in cryptocurrencies based on the market price. The sole job of a crypto exchange is to act like a mediator facilitating the transaction.
2. Crypto Brokers
Based on the change in currency, brokers help in buying/selling of crypto at prices determined by them. These prices are usually the current market price plus a small premium amount.
3. Direct Trading Exchange Platforms
Direct Trading platforms provide peer-to-peer trading options. There is no intermediary exchange involved, and trade directly takes place between buyers and sellers. Thus, they're easy to use. GDAX (now Coinbase pro) is an example of direct trading exchange platforms.
Also, based on the trading currency policy used by Crypto Exchange Softwares, they are of the following types:
1. Exchanges with Fiat Currencies
These Crypto Exchange Softwares make use of Fiat Currencies like EUR, Dollars, etc. for buying cryptocurrencies such as Bitcoin, Litecoin, etc. BitFinex and BitFlyer are typical examples of Crypto Exchanges with Fiat Currencies Support.
2. Exchanges with Fork Trading
These Crypto Exchange Softwares permit Fork Trading or making use of one primary cryptocurrency to buy equivalent another cryptocurrency on the basis of buying/selling charts. uniDAX and MintPal are typical examples of Crypto Exchanges with Fork Trading Support.
Global Crypto Exchange Market 2019-2024
Taking an insight into the Global Crypto Exchange Market 2019-2024, there are speculations that this sector holds a lot of potential in the upcoming years.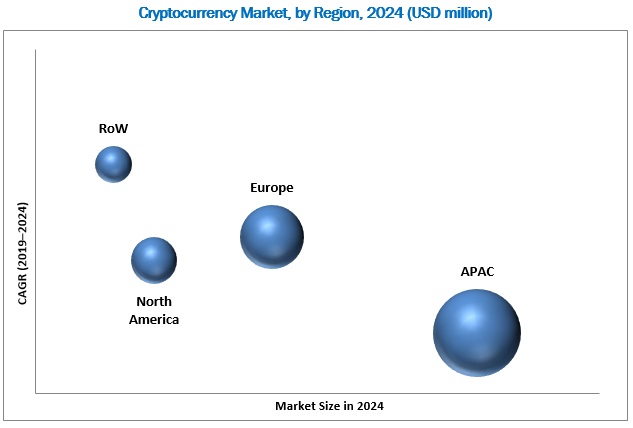 The graph highlights the comparison of expected growth in market size by the year 2024 and the estimated compound annual growth rate between the year 2019-2024 for different countries across the globe.
Crypto Markets v/s Internet Users
Furthermore, while comparing the trajectory of total cryptocurrency traders across the globe to the total number of internet users, the crypto market is still in an early stage, and there's too much of potential in this sector. The global reports and case studies also add to the fact that there are a fair number of chances for crypto markets to enhance further with the advancements in the blockchain technology and IoT sector. The involvement of people in the crypto sector is somewhat similar to the growth witnessed in the number of internet users during the early days.
The stats further suggest the growth in crypto exchange is directly proportional to the people engaged in using the internet and growth in the number of legit websites as far as the decentralized Applications or Decentralized internet is concerned.
Also, talking about the popularity of some commonly operated crypto exchanges across the globe: Binance tops the table with a rating of 9/10. This Exchange gained a lot of popularity in the last 2-3 years and recently concluded its ICO a few months back.
Popular Crypto Exchanges
Now, let us have an insight into the popular crypto exchanges across the globe:
1. Binance
This Crypto Exchange offers a mobile app, and this fact makes it the fastest growing exchange in the crypto markets. This Crypto Exchange platform tops the chart in the year 2019.
2. KuCoin
KuCoin, the next name on our list is famous for the launch of a dedicated mobile app for both iOS and Android platforms. This exchange is working hard and consistently rolling out updates to make their app one of the best in the industry.
3. Bitmex
Bitmex, the next name on this list is equally popular among the masses for high volume trading sessions.
4. CEX
This exchange is my personal favorite as it comes with state of the art security features and charges a low trading fee. Thus, it ensures more profits. Also, it supports superfast transactions.
5. CoinMama
CoinMama is one of the oldest players in the crypto markets. They allow instant buy and transfer of BTC and ETH.
6. Bittrex
Like all other exchanges in the list, Bittrex is a high-quality exchange that allows transaction of different crypto coins at one place. Thus, it provides with many options at one platform.
7. Changelly
Changelly supports instant conversion from one currency to another as per the user's choice. Thus, making it a wise choice.
The other Crypto Exchanges with the ratings in the market.
| | |
| --- | --- |
| Exchange | Rating |
| Binance | 9/10 |
| KuCoin | 8/10 |
| Huobi Pro | 6/10 |
| Changelly | 7.5/10 |
| Bittrex | 7/10 |
| Poloniex | 6/10 |
| Bitfinex | 5/10 |
| BitMex | 8/10 |
Best Cryptocurrency Exchange Platform in The Market
The best crypto exchange platform in the market is decided based on the factors listed below:
1. Crypto Currencies Supported
The number of supported coins and tokens on the platform play an essential role in deciding the top Crypto Exchange in the market. Among fiat exchanges, Bittrex is famous for supporting trade in over 100 tokens, while Bitfinex allows trading in around 39 tokens/coins. Some of the popular crypto exchanges like Kraken and Kucoin allow trading in 17 and 12 tokens respectively.
While talking about crypto-to-crypto exchanges, Poloniex support around 66 tokens and Changelly allows trading in over 100 coins. Likewise, Binance, a rapidly growing Chinese exchange is known for allowing trade in over 350 cryptocurrencies.
2. Countries Supported
The popular fiat exchanges like Bittrex, Coinmama, and Kraken extend their support in about 200+ countries. They are still inaccessible in few states of U.S. In fact, Coinbase, one of the largest crypto platforms extend the support in only 38 states in the United States. Crypto-to-Crypto exchanges connect the people from several countries across the globe for crypto trading.
3. Lowest Transaction Fees
Various crypto exchange platforms charge different transaction fees. For example, Coinbase charges all the transactions at a set base rate of 4% but waves a part of the conversion fee based on the payment method used. The famous Coinbase pro or GDAX platform charges a 0.10%-0.30% taker fee as well as 0% maker fee. On the other hand, Binance charges around 0.1% trading fee. Another famous name in Crypto market, Kraken's maker fee varies from 0.0-0.16% based on the volume, and the taker fees range between 0.10-0.26%. No doubt, Coinbase has the upper hand in this feature too.
4. Services Offered
The offered services play a vital role in deciding the top player. More the number of secondary features, more people find the platform easy-to-use. Hence, digital wallets, insurance protection, instant money transfer, offline storage, etc. are some of the standard services offered on almost every platform to attract investors. Coinbase, a pioneer exchange bags the top spot among all other crypto exchanges as it comes with the latest security and encryption practices. Moreover, it provides insurance security against loss in holdings due to theft for up to a maximum amount of $250,000.
5. Latest Technology
Coinbase beats all other crypto exchange platforms when it comes to the use of state-of-art technology while Bitfinex lies second in this list. Coinbase comes with a better interface and technology. The latest Coinbase Pro platform provides an entirely user-friendly environment. While coming to Bitfinex, it has an advanced charting option and a host of indicators depicting every transaction. It also allows traditional orders like market, limit, stop and algorithmic trades like OCO, Iceberg, and Post Only.
Considering all the above points, when it comes to the Best Cryptocurrency Exchange Software in the Market, no doubt Coinbase is the top contender. It comes with the support for GDAX platform (known as Coinbase Pro). In addition to that, the app provides a user-friendly interface for every kind of investor. The whole process of joining and linking bank accounts is relatively simple. All the coins and tokens can be traded quickly by scanning the unique QR code.
The exchange comes with the latest security protection. Moreover, the best part of using Coinbase is that the FDIC covers under insurance the holdings of every U.S. citizen up to a maximum limit of $250,000. Apart from that, the transaction fee is also very less and legit.
Working of Crypto Exchange Software
People often confuse blockchain technology with crypto trading and crypto marketing. But in simple terms, cryptocurrency and cryptomarkets are one of the many applications of blockchain technology. Also, blockchain technology has revolutionized the concept of data transfer. Every individual block comprises of three things: a cryptographic hash of the existing block, a timestamp, and data involved in the current transaction.
Blockchain: All You Need To Know
1. The term "blockchain" refers to a publicly available worldwide database that is encrypted and loaded with many security features.
2. The working of blockchain is simple to understand. It allows users across the globe to add information to a database and data is spread over a network. Thus, it ensures that no data gets corrupted.
3. The data is continuously flowing over a network, and no copy of data gets stored at a particular location or server.
4. The continuous flow of data over a network ensures that data is not altered from time to time.
5. Blockchain technology has revolutionized the concept of data security as no other technology permitted the free flow of data over a network without storing them on the servers.
6. Besides, this technology is an open-source software which allows everyone to create their blockchain.
7. The complete blockchain model is decentralized, and a single party doesn't have control over it.
8. Therefore, the data once submitted can't be manipulated again by the third-party users.
With the invention of Bitcoin in the year 2008 along with blockchain sector, people started to develop their cryptocurrencies across the globe with the help of cryptocurrency exchange developer. Thus, a broad crypto market flourished over the years and investors began to make investments in this field.
Currently, around 700 digital currencies are existing all over the World Wide Web. Though most of these cryptocurrencies are not-so-popular, nobody can suspect what comes next! Each Crypto Exchange has its own set of features like the commission cost, limitation, currencies they allow to trade, etc.
WORKING:
The following image depicts the in-depth view of a simple Crypto Exchange Software:
1. The Crypto Exchange Software allows multiple users across the globe to connect to a secure network.
2. When someone requests a transaction, the request for a peer-to-peer connection is set up.
3. The individual computer involved in p-2-p connection is known as a node.
4. Multiple nodes validate the user's requested transaction based on the known set algorithm. A valid cryptocurrency transaction involves transfer, record, buying or selling of cryptocurrencies.
5. Multiple transactions are combined to form a new block of data.
6. The next step consists of the addition of the new block to the existing blockchain.
7. Once, the block gets added to the existing blockchain; the data is permanent and unalterable.
8. Finally, the transaction is complete.
Characteristics of Crypto Exchange Software:
While developing a stable crypto exchange software, it is necessary to incorporate the following characteristics:
1. Security:
It is essential for any exchange to come with state-of-art security and encryption practices. It wasn't a long time ago, the news of hacking of South Korean Exchange Bithumb shocked every crypto trader. The total loss was estimated to be somewhere around $31.6 billion. Also, security is essential to protect the identity of the user and prevent data loss.
2. Supported Cryptocurrencies:
It is vital that Exchange provides users with a one-place destination for trading in all cryptocurrencies and tokens. Since investors don't have time to switch from one platform to another.
3. Fees and Commissions:
Every trader wants to book the maximum profit. So, it is necessary that an exchange doesn't charge high fees and commission as transaction charges can cost a fortune in high-volume trades.
4. Mode of Payment:
Adding multiple payment options ensure more flexibility for traders. Some of the standard modes of payment are cash, credit cards, wire transfer, pay through PayPal, etc.
5. Geographic Location:
Since the laws and the legislature policies differ from place-to-place. The geographic location and laws governing the area also plays a vital role in setting up crypto exchange markets.
6. Ease of Use:
Since the crypto traders can't spend their valuable time learning a sophisticated financial instrument. It's essential that the website or application comes with an easy-to-use interface.
Cost of Launching Cryptocurrency Exchange:
The report suggests that the cost of launching Coinbase, one of the pioneer cryptocurrency exchange website is somewhere around in the range of USD 57,000 to USD 98,000.
The total cost of launching both website and application for a cryptocurrency exchange platform will cost between USD 1,32,000 to USD 1,45,000.
The costs mentioned above are approximate figures. However, the figures can vary depending upon the needs of the user and scope of work. Therefore, one can tell the exact estimate only after the complete analysis of the project based on the feasibility and requirements.
Once, you're done with the cost estimation almost 80% prepared to launch your very own Crypto Exchange platform. Now, there are only two things left for you to look at –
A. How to ensure the security of your Cryptocurrency Exchange Software.
B. Type of Crypto Exchange Software you want to set up.
Conclusion:
The blockchain technology and Crypto markets hold a lot of potential in the coming years. The high returns and volatility of crypto markets have been a hot talk since last decade. No wonder why there's a demand for stable and secure Cryptocurrency trading Software across the globe. As more people are following crypto markets keenly, we hope that this article gives you a better vision for setting up your very own Crypto Exchange.
---