In today's digital age, artificial intelligence (AI) has become an integral part of many businesses. AI-powered solutions are helping companies automate processes, enhance customer experiences, and gain a competitive advantage in the marketplace. ChatGPT is an advanced language model that can understand and generate natural language responses. It can be a valuable tool for developing conversational AI applications, chatbots, and virtual assistants.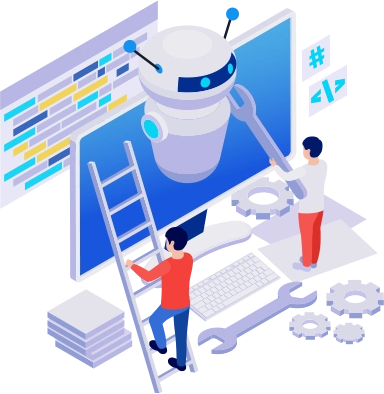 Benefits of Hiring ChatGPT Developers from Vibhuti Technologies
Our ChatGPT developers have extensive experience in developing AI-powered solutions. They are proficient in programming languages such as Python, Java, and JavaScript, and have a deep understanding of AI algorithms and techniques.
We understand that every business has unique requirements. Our developers work closely with you to understand your business needs and develop customized AI solutions that meet your specific requirements.
Hiring ChatGPT developers from Vibhuti Technologies is a cost-effective solution for developing AI-powered solutions. You do not have to invest in expensive hardware or software, and you only pay for the services you use.
We offer flexible hiring models to suit your business needs. You can hire ChatGPT developers on a full-time, part-time, or hourly basis, depending on your project requirements.
Our developers provide ongoing support and maintenance for your AI-powered solutions. We ensure that your solution is running smoothly and efficiently, and we address any issues or concerns promptly
If you are looking to implement ChatGPT Development solutions in your industry, contact us today to learn how our experts can help you.

Schedule an
Introductory call
Contact one of our experienced team members who will assist you in identifying your objectives and technical needs.

We shortlist the
Most relevant talent
Once you provide us with your requirements, we will promptly shortlist the initial batch of candidates within 48 hours.

Conduct the
Interview
Interview our pre-vetted talent and choose that best aligns with your business needs.

Onboarding &
Support
We establish the right frame works and set clear expectations for both parties involved. Additionally, our team handles the HR, IT, and administrative support for the talent, ensuring smooth operations.
Hiring Solutions
Made For You
Select a date and time for one of our expert to call you back.
We Are An Expert
In What We Do
Hire ChatGPT Developers from
Monthly, Part Time & Full Time
Time to Get Right Developers
Extremely Low (98% success)
Agile Development Methodology
Structured Training Programs
In House
Freelancer
Time to Get Right Developers
4-12 weeks
Time to Start a Project
2-10 weeks
Pricing (weekly average)
2.5 X
Project Manager
Extra Cost
Quality Assurance Check
Extra Cost
Agile Development Methodology
May Be
Impact Due to Turnover
High
Structured Training Programs
Some
Assured Work Rigor
40 hrs/week
Hiring Model
Monthly, Part Time & Full Time
Time to Get Right Developers
1 day - 2 weeks
Time to Start a Project
1 day - 2 weeks
Pricing (weekly average)
1.5 X
Project Failure Risk
Extremely Low (98% success)
Project Manager
Minimal Cost
Quality Assurance Check
Assured
Query Support
24 Hours Assurance
Agile Development Methodology
Yes
Impact Due to Turnover
None
Structured Training Programs
Yes
Assured Work Rigor
45 hrs/week
Hiring Model
Weekly, Hourly
Time to Get Right Developers
1-12 weeks
Time to Start a Project
1-10 weeks
Pricing (weekly average)
1 X
Project Failure Risk
Very High
Quality Assurance Check
No
Agile Development Methodology
No
Impact Due to Turnover
High
Structured Training Programs
No
Assured Work Rigor
Not sure