Hire Blockchain Developers
Blockchain technology is a decentralized, distributed ledger system that enables the secure, transparent, and immutable recording of transactions between multiple parties. It allows for the creation of a digital ledger of transactions that is maintained by a network of computers rather than a single authority.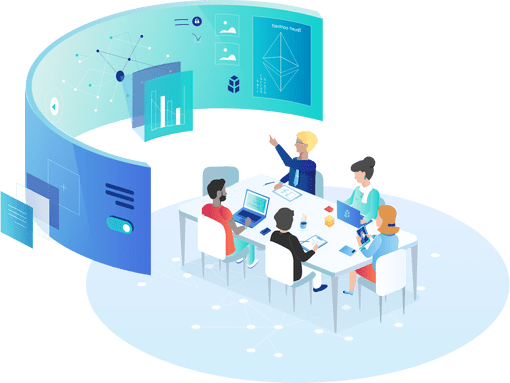 At Vibhuti Technologies we offers blockchain development services to businesses across various industries. Our team of experienced developers has expertise in Solidity, Java, and C++, and are well-versed in blockchain frameworks like Ethereum, Hyperledger, and Corda. We offer customized blockchain solutions and follow an agile development process.
Our commitment to quality assurance sets us apart from other blockchain development companies. We strive to deliver innovative blockchain solutions that meet the highest standards of performance and security. At Vibhuti Technologies, we are dedicated to helping businesses leverage the benefits of blockchain technology to streamline operations, enhance security, and reduce costs. Contact us today to learn more about our blockchain development services.
Our team of blockchain developers has in-depth knowledge and expertise in Hyperledger, a popular blockchain framework that provides enterprise-grade solutions.
Blockchain Development Services
We offer a wide range of blockchain development services, including DApp development, smart contracts development, and blockchain consulting services.
Shrewd Contracts Development
Our blockchain developers can help you automate various business processes with smart contracts. By creating shrewd contracts, we can help you save time and costs, and reduce the risk of fraud.
Inventory Network Blockchain
Our blockchain developers can help you create an inventory network blockchain that can provide end-to-end visibility and traceability of your supply chain.
If you are looking to implement Blockchain Development solutions in your industry, contact us today to learn how our experts can help you.

Schedule an
Introductory call
Contact one of our experienced team members who will assist you in identifying your objectives and technical needs.

We shortlist the
Most relevant talent
Once you provide us with your requirements, we will promptly shortlist the initial batch of candidates within 48 hours.

Conduct the
Interview
Interview our pre-vetted talent and choose that best aligns with your business needs.

Onboarding &
Support
We establish the right frame works and set clear expectations for both parties involved. Additionally, our team handles the HR, IT, and administrative support for the talent, ensuring smooth operations.
Hiring Solutions
Made For You
Select a date and time for one of our expert to call you back.
We Are An Expert
In What We Do
Hire Blockchain Developers from
Monthly, Part Time & Full Time
Time to Get Right Developers
Extremely Low (98% success)
Agile Development Methodology
Structured Training Programs
In House
Freelancer
Time to Get Right Developers
4-12 weeks
Time to Start a Project
2-10 weeks
Pricing (weekly average)
2.5 X
Project Manager
Extra Cost
Quality Assurance Check
Extra Cost
Agile Development Methodology
May Be
Impact Due to Turnover
High
Structured Training Programs
Some
Assured Work Rigor
40 hrs/week
Hiring Model
Monthly, Part Time & Full Time
Time to Get Right Developers
1 day - 2 weeks
Time to Start a Project
1 day - 2 weeks
Pricing (weekly average)
1.5 X
Project Failure Risk
Extremely Low (98% success)
Project Manager
Minimal Cost
Quality Assurance Check
Assured
Query Support
24 Hours Assurance
Agile Development Methodology
Yes
Impact Due to Turnover
None
Structured Training Programs
Yes
Assured Work Rigor
45 hrs/week
Hiring Model
Weekly, Hourly
Time to Get Right Developers
1-12 weeks
Time to Start a Project
1-10 weeks
Pricing (weekly average)
1 X
Project Failure Risk
Very High
Quality Assurance Check
No
Agile Development Methodology
No
Impact Due to Turnover
High
Structured Training Programs
No
Assured Work Rigor
Not sure