Hire React Native Developers
Want to Hire Top React Native Companies? making a spot for your image in the business! Seeking to achieve the top! Guaranteeing your items and administrations are loved by all!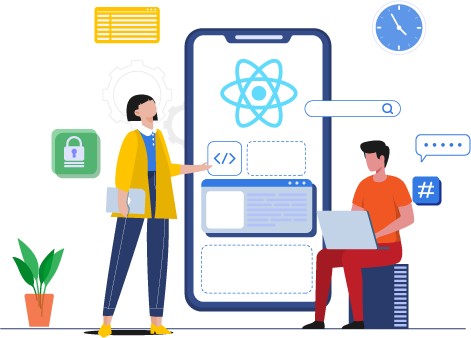 For a field as relevant as application advancement, you need the best-of-the-business developers. All things considered, your application is a reflection of your business. Clients will download the application for possibility. Also, they ought not feel and experience generally. Once more, the angle that you are putting your cash in it makes it our obligation to make the best application for you. We, at Vibhuti advancements are related with the most knowledgeable group of engineers. They are devoted and they know innovation.
Devoted Resource On Demand
Our product Developers are gifted and ability in creating React Native applications.
Contract A Team Of Your Choice
Contract engineers in the wake of planning a meeting and pick according to your necessity.
Our Developers are prepared to give specialized help
Our citation are custom fitted citation according to the customer necessities.
Every day/weekly/monthly Reporting
Our Developers will get ready reports according to prerequisite about their assignments.
We can scale and refresh your current ventures
If you are looking to implement React Native Development solutions in your industry, contact us today to learn how our experts can help you.

Schedule an
Introductory call
Contact one of our experienced team members who will assist you in identifying your objectives and technical needs.

We shortlist the
Most relevant talent
Once you provide us with your requirements, we will promptly shortlist the initial batch of candidates within 48 hours.

Conduct the
Interview
Interview our pre-vetted talent and choose that best aligns with your business needs.

Onboarding &
Support
We establish the right frame works and set clear expectations for both parties involved. Additionally, our team handles the HR, IT, and administrative support for the talent, ensuring smooth operations.
Hiring Solutions
Made For You
Select a date and time for one of our expert to call you back.
We Are An Expert
In What We Do
Hire React Native Developers from
Monthly, Part Time & Full Time
Time to Get Right Developers
Extremely Low (98% success)
Agile Development Methodology
Structured Training Programs
In House
Freelancer
Time to Get Right Developers
4-12 weeks
Time to Start a Project
2-10 weeks
Pricing (weekly average)
2.5 X
Project Manager
Extra Cost
Quality Assurance Check
Extra Cost
Agile Development Methodology
May Be
Impact Due to Turnover
High
Structured Training Programs
Some
Assured Work Rigor
40 hrs/week
Hiring Model
Monthly, Part Time & Full Time
Time to Get Right Developers
1 day - 2 weeks
Time to Start a Project
1 day - 2 weeks
Pricing (weekly average)
1.5 X
Project Failure Risk
Extremely Low (98% success)
Project Manager
Minimal Cost
Quality Assurance Check
Assured
Query Support
24 Hours Assurance
Agile Development Methodology
Yes
Impact Due to Turnover
None
Structured Training Programs
Yes
Assured Work Rigor
45 hrs/week
Hiring Model
Weekly, Hourly
Time to Get Right Developers
1-12 weeks
Time to Start a Project
1-10 weeks
Pricing (weekly average)
1 X
Project Failure Risk
Very High
Quality Assurance Check
No
Agile Development Methodology
No
Impact Due to Turnover
High
Structured Training Programs
No
Assured Work Rigor
Not sure