Core Professional Industtrail Traning
Core Professional training investment leads to be a lucrative development career
We, Vibhuti Technologies believe in taking everybody along towards the path of success. Be it, our clients or our employees. Our motive is to provide quality, time-saving and top-notch services in the technology sector. This time we are bringing something different to the table for job seekers and technical career aspirants with an outstanding opportunity to grab.

Vibhuti Technologies is officially announcing its Industrial training for Freshers as well as the experienced (who wish to get better expertise). We strive hard to make students grow personally as well as professionally to their expenditure on the course into a significant investment.
WHY WE STARTED THIS INDUSTRIAL TRAINING?
To accomplish our pre-determined goals, we conduct timely interviews to make additions to our team of professionals. But, from the last few years, we have been getting disappointed with the performance of new additions to Vibhuti Technologies. It is mostly due to a lack of practical exposure, real-time projects, and professional deadlines. Our company initiated this industrial training to guide interested learners to sharpen their professional development skills to stand out in this competitive world.

Vibhuti Technologies is going to leverage a team of experts to help the students to grab the essentials and advance level learning to have a lucrative career path in the domain.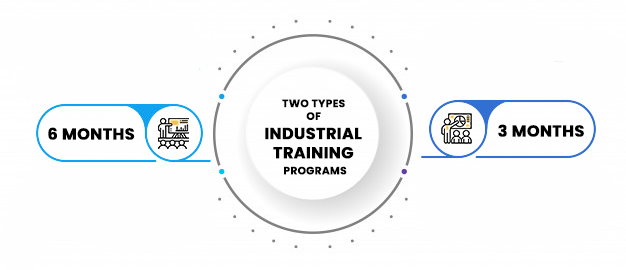 HOW DOES THIS TRAINING WORK?
There are mainly two types of industrial training programs for 6 months and 3 months
To opt for a 6-month training, one has to be in their last semester of technical bachelors. These 6 months would be time-invested and saving at the same time as a student would not require to separately go to some institution to get training for getting a good job. They can save money and time by opting for our 6 months of training as a part of their study curriculum.

If someone is passed his graduation already and wishes to get some real-time exposure in the development can consider our 3-month program.