Core Professional Industtrail Traning
Core Professional training investment leads to be a lucrative development career
Vibhuti Technologies is located in Mohali, INDIA and is happy to offer its expertise in Latest Tech Stacks training. Our tried and true system is based on over 6 years cumulative experience shared between our trainers & engineers. We pride ourselves on setting up our clients for success and brought that expertise for candidates looking career in development engineering.
To get the enthusiastic and brainee fresh talent and guide them with the right career path to achieve their goals. Further eventually making some significant additions of top developers to our team with highly proficient employees.
We at Vibhuti Technologies believe in taking everybody along towards the path of success. Be it, our clients or our employees. Our motive is to provide quality, time-saving and top-notch services in the technology sector. This time we are bringing something different to the table for job seekers and technical career aspirants with an outstanding opportunity to grab. Vibhuti Technologies is officially announcing its Industrial training for Freshers as well as the experienced (who wish to get better expertise). We strive hard to make students grow personally as well as professionally to their expenditure on the course into a significant investment.
WHY WE STARTED THIS INDUSTRIAL TRAINING?
To accomplish our predetermined goals, we conduct timely interviews to make additions to our team of professionals. But, from the last few years, we have been getting disappointed with the performance of new additions to us. It is mostly due to a lack of practical exposure, real-time projects, and professional deadlines. Our company initiated this industrial training to guide interested learners to sharpen their professional development skills to stand out in this competitive world. 
Vibhuti Technologies is going to leverage a team of experts to help the students to grab the essentials and advanced level learning to have a lucrative career path in the domain.
 SALIENT FEATURES OF OUR PROGRAMS
There are mainly two types of industrial training programs for 6 months and 3 months
Our training subjects are meticulously planned by our trainers and are designed in a manner geared toward the maximization of efficiency. Your time is valuable, so our goal is to best prepare you while taking up the least amount of your time possible.
Training sessions will be comprised of both activities and lectures that will touch upon the following subjects:
[iOS]

[Android]

[PHP]

[.NET]

[Digital Marketing]

[React Native]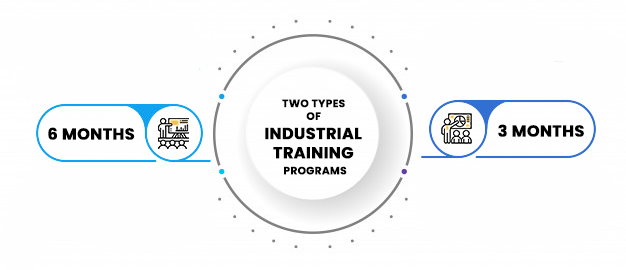 HOW DOES THIS TRAINING WORK?
There are mainly two types of industrial training programs for 6 months and 3 months
To opt for a 6-month training, one has to be in their last semester of technical bachelors. These 6 months would be time-invested and saving at the same time as a student would not require to separately go to some institution to get training for getting a good job. They can save money and time by opting for our 6 months of training as a part of their study curriculum.

If someone is passed his graduation already and wishes to get some real-time exposure in the development can consider our 3-month program.
This training process states the terms and conditions that govern the eligibility & schedule as below
The trainer shall conduct training in the chosen technology only, in accordance with the schedule attached hereto as Exhibit A.
So, if anyone is interested to get started with any of the two models of 6 months and 3 months as stated above should meet the eligibility criteria. They must have done or are still pursuing the last semester of graduation in any technical stream, like- Information Technology or Computer Science. Besides, they must be scoring minimum 70 percent marks from matriculation to throughout Graduation.
Graduated Candidates

(3 months )

Industrial Training

( 6 months )

Live Projects

1

1

Fee

PHP

INR 15000/-

INR 20000/-

Android

INR 15000/-

INR 20000/-

.NET

INR 15000/-

INR 20000/-

IOS*

INR 20.000/-

INR 25,000/-

Hybrid/

React Native*

INR 20,000/-

INR 25,000/-

Fee Schedule

50% booking seat

50% after a month

50% booking seat

50% after two months
* For iOS , Hybrid/React Native , candidate is supposed to bring own Macbook ( minimum configuration i5 , 8 GB , 120 GB SSD )
TRAINING SCHEDULE
3 months
Each Session – [ 3 Hrs ] , Practical Project – [ 2 Hrs ]
6 months
Each Session – [2 Hrs] , Practical Project – [ 1 Hrs ]
Are you intrigued and meet the eligibility criteria? We would love to hear from you. All you need is to send your CV and contact details at career@vibhuti.biz and our team will connect with you at the earliest possible. The rest of the details will be provided to you thereafter and we will take over the further procedure to get you on board with us, eventually.