How Technology Is Helping Businesses Produce More Business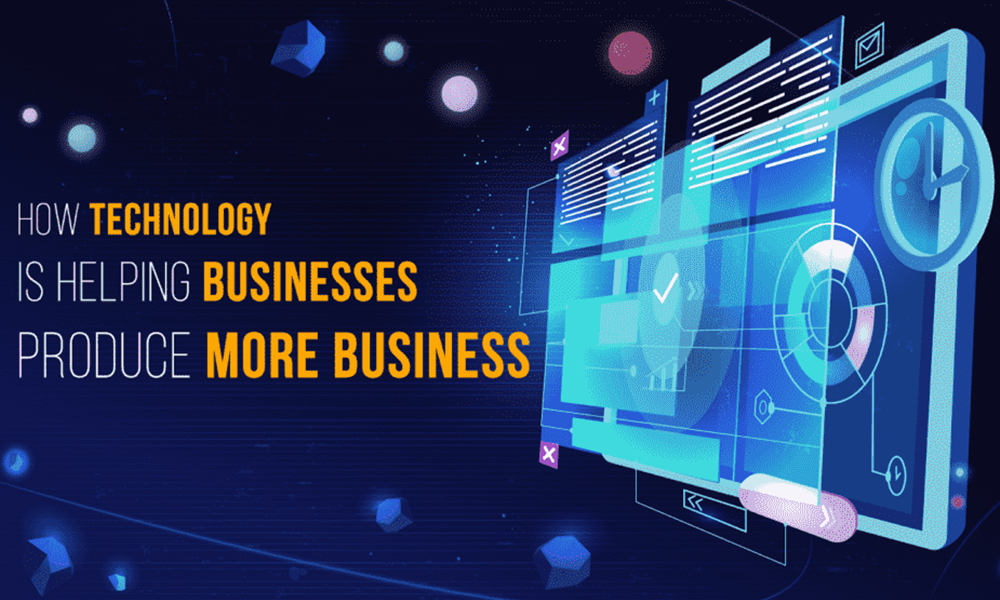 More interactive, streamlined, and with endless opportunities are features that businesses in the duration possess. All thanks to the technological advancements in the variant fields of businesses. Now, think yourself, which business is excelling without having an app development done? Even a small business start-up owns a website as a business's online business card. How can your business survive without technology incorporated in it?
MAKE USE OF THE DIGITAL REVOLUTION TO GET IMMENSE BENEFITS
If you are still skimping on advanced technology for your business, then this is the high time- get it. It will take your business to heights of success, more conversions, and uniquely fulfill your customer needs. For instance- Consider the example of Lens Cart- this company is amazingly intriguing customers with the help of Augmented Reality. Users are free to try out different spectacles and they are assured that it will go well with their face structure before buying it. So, you can also hire an Augmented Reality developer if you wish to give a similar effect to your services, products and eventually leading towards great conversions.
Follow The Mobile Trend For Impactful Branding
Leave that misconception behind that an integrated application is meant for big brands. Your small business is going to fetch a lot from the apps that will reach customers more than anything. Convenience is what customers wish to get, and on-demand apps are unbeatable for that. Be it an ice-cream parlor or a luxurious restaurant is interacting with their customers via dedicated apps. So, why don't you think about hiring an app development professional? It is the need of the hour and business needs to have an online presence (a strong one) to make space in the daily life of customers. Whenever you think of food from outside while being at home, what comes to your mind first? Probably, it is Zomato, isn't it? So, according to your business domain, your application will be the first thing to click your client's mind in such cases. Nothing can beat an app as it is going to be visible to the customers as long as they do not abandon it.
This world of global interactions can do a lot more than we think of its capability. Imagine, Facebook has 2.4 billion active users and this figure is more than China's population stats. This huge number is going to be your potential audience once you will be a brand and you are missing a lot if you are not using this inexpensive mode of marketing. Take the example of TikTok that is simply engaging a hefty number of users with merely being a source of entertainment and people are advertising using this app. There are many influencers with millions of followers, who are creating brand awareness. In fact, social media is a perfect way to humanize any brand or business. Twitter, Facebook, Instagram or YouTube or other platforms can take you to close your goals of the engaging maximum audience and getting conversions. So, understand the importance of social media before you miss a lot of benefits and hire a social media professional for your business.
Let Your Business Excel In The Modern Landscape With Digital Marketing Trends
Only using the right tactic can turn out digital marketing in your favor. So, hiring the right digital marketing expert is mandatory for your business to follow the path of success in this tech-savvy world. Before applying any digital marketing tactics, ask yourself- about exposure, your requirements, marketing goals, and targeted audience. This is how you can bring the right digital revolution for your business. Content is one of the mandatory aspects of digital marketing and it ought to be engaging to make most of any technique. Optimization is compulsory for mobile as well as for desktop marketing and you need an expert to assist you in this thing. However, on average, most of the users prefer mobile devices as compared to desktop. Besides, a sound website, proper search engine optimization, and organic social media followers & associations are very important for successful digital marketing.
TECHNOLOGY IS A MEDIUM FOR BETTER CONNECTIVITY
Conversions, recognitions, and customer satisfaction are major goals of any business. In this online world, technology is playing a super-active role to accomplish, better connectivity, communication, efficient deliverables, security, advancement, convenience and much more. It is completely justified to call technology- a wave of advancement for businesses.