Want to Hire Top Window Companies? Vibhuti Technologies has the best group of affirmed developers who have been managing Windows application improvement and giving similar administrations to endless quantities of uses advancement for windows gadgets.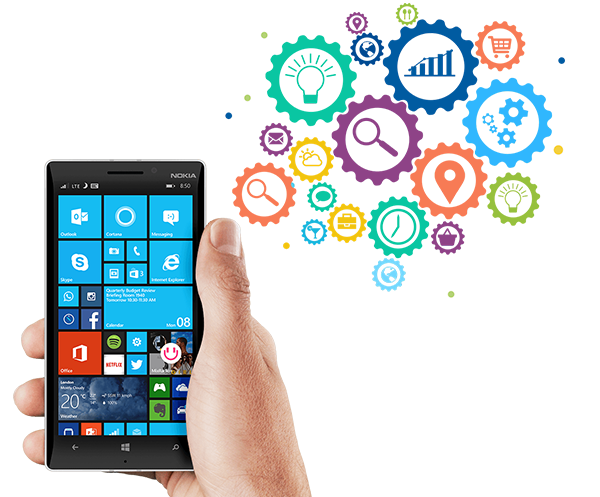 The Windows Programmers are knowledgeable with the most recent innovations accessible in the market and work together in-a state of harm ony in order to expand efficiency and convey the best outcomes. Our software engineers can structure and create programming applications to take a shot at Windows 10, Windows 8, Windows 8.1, Windows 7, Windows XP or even Vista and relying upon the product type you can employ Visual C++ developers or even.NET developers.
Windows App Conceptualization and Design
We have a specialist in windows portable application who changes over your thoughts into intelligent and easy to use windows applications.
Windows Apps Porting and Migration
We guarantee to give you a smooth information change from existing stage to windows by helping you to relocate from obsolete windows application to separate most recent adaptations.
Custom Windows Mobile Application Development
We help our clients to get modify windows portable application according to prerequisites where you can empower it to show signs of improvement misuse stage and develop your business effortlessly.
Windows Apps QA and Testing
We aim to create smart contracts that enhance the efficiency of your business processes. By automating tasks, streamlining operations, and removing intermediaries, smart contracts can help you save time and costs.
Online Windows Mobile App Development
Our group of windows portable application encourages you to have top to bottom information of versatile web application advancement apparatuses with creating hearty and adaptable applications by fortifying the online nearness of your business.
Windows App Support and Maintenance
We have a specialist group who offer dependable windows application backing to keep our customer's application refreshed with keeping up the ventures measures.
If you are looking to implement Windows Development solutions in your industry, contact us today to learn how our experts can help you.

Schedule an
Introductory call
Contact one of our experienced team members who will assist you in identifying your objectives and technical needs.

We shortlist the
Most relevant talent
Once you provide us with your requirements, we will promptly shortlist the initial batch of candidates within 48 hours.

Conduct the
Interview
Interview our pre-vetted talent and choose that best aligns with your business needs.

Onboarding &
Support
We establish the right frame works and set clear expectations for both parties involved. Additionally, our team handles the HR, IT, and administrative support for the talent, ensuring smooth operations.
Hiring Solutions
Made For You
Select a date and time for one of our expert to call you back.
We Are An Expert
In What We Do
Hire Windows Developers from
Monthly, Part Time & Full Time
Time to Get Right Developers
Extremely Low (98% success)
Agile Development Methodology
Structured Training Programs
In House
Freelancer
Time to Get Right Developers
4-12 weeks
Time to Start a Project
2-10 weeks
Pricing (weekly average)
2.5 X
Project Manager
Extra Cost
Quality Assurance Check
Extra Cost
Agile Development Methodology
May Be
Impact Due to Turnover
High
Structured Training Programs
Some
Assured Work Rigor
40 hrs/week
Hiring Model
Monthly, Part Time & Full Time
Time to Get Right Developers
1 day - 2 weeks
Time to Start a Project
1 day - 2 weeks
Pricing (weekly average)
1.5 X
Project Failure Risk
Extremely Low (98% success)
Project Manager
Minimal Cost
Quality Assurance Check
Assured
Query Support
24 Hours Assurance
Agile Development Methodology
Yes
Impact Due to Turnover
None
Structured Training Programs
Yes
Assured Work Rigor
45 hrs/week
Hiring Model
Weekly, Hourly
Time to Get Right Developers
1-12 weeks
Time to Start a Project
1-10 weeks
Pricing (weekly average)
1 X
Project Failure Risk
Very High
Quality Assurance Check
No
Agile Development Methodology
No
Impact Due to Turnover
High
Structured Training Programs
No
Assured Work Rigor
Not sure